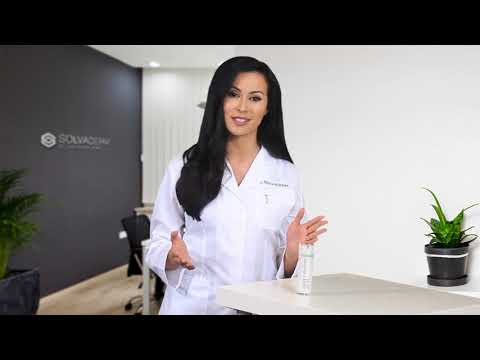 Revolutionizing
Cosmetic Dermatology
Discover Solvaderm's Professional Strength Products For Healthier And More Beautiful Skin.
About the Product
This system consists of two Solvaderm products:
Zeroblem - This is a spot treatment intended to help even out skin pigmentation. It has also been formulated to help purify your pores, regulate oil production, and free your skin from acne-causing bacteria.
Juvabrite - This skin brightening cream promotes enhanced skin radiance. It evens out hyperpigmentation issues and promotes a more-revitalized and better-toned complexion.
Usage
Step 1: Apply a thin layer of Juvabrite to your entire face every day and night, under your moisturizer.
Step 2: Use Zeroblem at night to spot-treat hyperpigmented spots on your skin.
Ingredients
Juvabrite

Seaweed Extract - This ingredient delivers a significant number of vitamins and minerals your skin needs to heal and become rejuvenated. It boosts your skin's moisture content which, in turn, enhances its dewiness and smoothness.
Hyaluronic Acid - This ingredient draws in moisture. It has the ability to keep hydrating your skin over longer periods of time.
Plant Complex - This consists of Saxifraga Sarmentosa Extract, Vitis Vinifera (Grape) Fruit Extract, Morus Bombycis Root Extract, Scutellaria Baicalensis Root Extract, Malva Sylvestris (Mallow) Extract, Mentha Piperita (Peppermint) Extract, Primula Veris (Primula) Extract, Alchemilla Vulgaris (Lady's Mantle) Extract, Veronica Officinalis (Speedwell Herb) Extract, Melissa Officinalis (Balm Mint) Extract, and Achillea Millefollium (Yarrow) Extract. These plant extracts deliver a combination of anti-inflammatory, astringent, antioxidant, oil-control, pore-purifying, and skin-calming properties that promote a brighter overall complexion.

Zeroblem

Colloidal Sulfur - It helps purify your skin from acne-causing bacteria and helps prevent acne breakouts. It regulates your skin's pH levels to make it balanced just right in order to fight against bacteria infestation.
Zinc Oxide - It dries out blemishes and acne, fast. It also supports enhanced oil control and regulation that keeps your skin from excessively greasing.
Salicylic Acid - This is a beta-hydroxy acid (BHA, which can powerfully but gently lift and eliminate dead and damaged skin layers. Its exfoliation function enhances the rate of skin regeneration and renewal while simultaneously purifying your pores.
Benefits
These products help lighten acne marks and other hyper-pigmentated spots to even out your skin tone.
This system promotes your skin's clarity and natural glow.
The FDA has not evaluated these statements and this product is not intended to cure or prevent any specific skin condition. Remember to read our labels and ingredient lists carefully and always follow the directions for application. If you have a history of skin allergies, a skin patch test is recommended before use. Avoid ingredients that are known to trigger an allergic reaction and discontinue use immediately should a reaction occur.