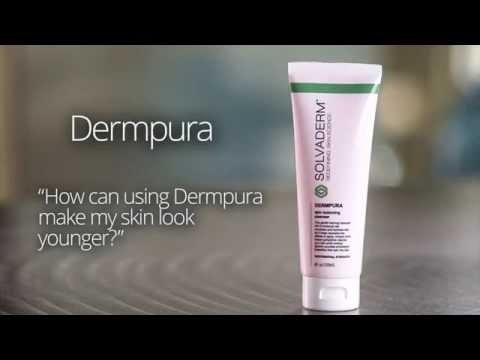 Revolutionizing
Cosmetic Dermatology
Discover Solvaderm's Professional Strength Products For Healthier And More Beautiful Skin.
Dermpura is a deep-cleaning, nourishing, daily facial cleanser that helps repair, balance, and protect your skin. This non-greasy face wash is infused with rich, natural botanical oils, vitamins, and antioxidants that will thoroughly clean and fortify your face and leave it looking rejuvenated, full, and firm. The leading-edge, professional-strength formula provides vital nutrients and encourages collagen synthesis, optimal pH, and ideal moisture levels while thoroughly cleaning your skin. A foaming cleanser, Dermpura penetrates deep into your pores to dissolve and lift out dirt, oil, and other impurities, without causing irritation. It calms inflamed or irritated skin and provides a cooling sensation that will leave you feeling invigorated and refreshed. Appropriate for all skin types, this skin balancing  reparative cleanser is paraben- and perfume-free and will help protect your skin from free radicals and other environmental pollutants.
Usage
Apply a small amount of Dermpura to wet skin, massaging it into the face while avoiding the eye area. Rinse with lukewarm water and pat the skin dry before applying toner.
Ingredients
Rosa Rubiginosa (Rose Hip) Seed: provides optimal hydration for the skin while simultaneously promoting the production of stronger collagen fibers for a more resilient skin matrix. Overtime, skin firmness and elasticity are improved for a more youthful appearance.
Sodium Olivate: this ingredient draws out impurities from the pores, reducing the risk of acne and other blemishes. It cleanses the skin completely without stripping natural oils.
Glycerin: helps replenish skin's moisture content, giving it a fuller appearance and smoothing away wrinkles and fine lines.
Eriobotrya Japonica Extract: a rich source of antioxidants that neutralize free radicals and protect skin from becoming damaged further. It also enhances the natural production of hyaluronic acid to reduce chronic dryness and provide long-lasting hydration.
Chondrus Crispus (Seaweed) Extract: with natural anti-inflammatory and skin conditioning properties, this nourishing sea botanical boosts the skin's moisture content and promotes a more radiant complexion.
Benefits
Deeply cleanses the skin without leaving it dry or taut
Soothes inflammation and calms irritation
Unclogs pores to reduce the risk of pimples and acne
Is hypoallergenic and safe for use on all skin types
Supports collagen synthesis to improve elasticity and suppleness
Won't upset the skin's delicate pH balance
The FDA has not evaluated these statements and this product is not intended to cure or prevent any specific skin condition. Remember to read our labels and ingredient lists carefully and always follow the directions for application. If you have a history of skin allergies, a skin patch test is recommended before use. Avoid ingredients that are known to trigger an allergic reaction and discontinue use immediately should a reaction occur.