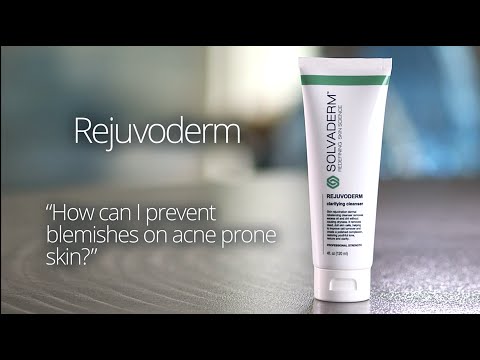 Revolutionizing
Cosmetic Dermatology
Discover Solvaderm's Professional Strength Products For Healthier And More Beautiful Skin.
About the product
Solvaderm Rejuvoderm gives your skin the mild, mini-exfoliation that your skin requires with every face wash. Most skin types will be able to tolerate low and regular doses of glycolic acid that gently sloughs off skin to facilitate faster skin regeneration and renewal. Rejuvoderm offers more: lactic acid and salicylic acid. This cleanser is a perfect complement to your daily and nightly skincare regimens, and is most especially suited for removing blemishes, and for healing acne-challenged skin. For irresistibly smoother, more radiant skin complexion, Solvaderm Rejuvoderm is the answer.
Usage
Use Rejuvoderm after cleansing or, after wetting your skin. Use to exfoliate your face, neck and chest. To experience the fastest improvements to your skin, use daily but, make sure to use product only as your skin can tolerate the formula. Rinse off with lukewarm water, pat dry, and immediately follow through with your moisturizer. Do not use this product on injured, cracked or sunburned skin.
Ingredients
Salicylic Acid: it is a beta hydroxy acid (BHA) that is customarily recommended for blemish-prone and acne-challenged skin. It draws out impurities stuck in your pores. Used daily, this ingredient can help regulate sebum production and control greasing on your skin's surface.
Glycolic Acid and Lactic Acid: these ingredients are called alpha hydroxy acids (AHA). Like BHA, these ingredients give your skin a mild exfoliation that sloughs off your skin's top layer faster and promotes faster skin repair, regeneration, turnover and renewal.
Lavandula Angustifolia (Lavender) Oil: this helps restore your skin's moisture content back to ideal levels. It conditions your skin and strike a moisture balance that promotes healthier skin.
Benefits
It draws out excess oils and dirt stuck in your pores without drying out your skin
This product exfoliates dead and damaged layers of the skin and simultaneously stimulates faster skin healing, regeneration and renewal
It improves your skin tone, clarity and surface texture
It restores your skin's optimal moisture levels to prevent overproduction of skin oils that result to greasy skin
It helps prevent blemishes, giving you clear, spot-free skin