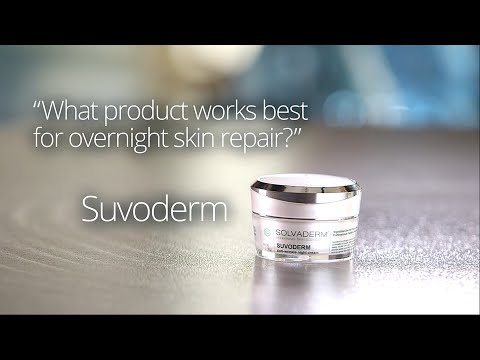 Revolutionizing
Cosmetic Dermatology
Discover Solvaderm's Professional Strength Products For Healthier And More Beautiful Skin.
Suvoderm is a multi-action, overnight solution developed to rescue and repair your skin and rejuvenate your complexion.  It strengthens the structure of your skin, improving its elasticity and firmness, and delivers intensive moisture that 'plumps' away fine lines and wrinkles, giving your skin a more even texture. Suvoderm's formula contains natural skin brighteners that fade age spots, scars, and other hyperpigmented areas to even out your skin's tone, and antioxidants to combat free radical damage. This all-in-one professional strength treatment helps you attain healthier, younger-looking skin that's more resilient to signs of aging.
Usage
Apply Suvoderm liberally to the skin after cleansing and toning, using an upward and outward motion. Suvoderm can be used on the face, neck and chest area and, while it is intended as a night cream, can also be worn during the day when extra moisturizing protection is needed.
Ingredients
Niacinamide: provides skin with a boost of moisture, improves microcirculation and reduces the severity of hyperpigmentation.
Saccharomyces/Copper Ferment (Cu Complex): promotes skin repair, restructuring and renewal. This ingredient has the added ability to neutralize free radicals and promote collagen synthesis.
Vitamin E: a powerful antioxidant, this vitamin also helps rebuild your skin's protective barrier, keeping moisture in and irritants and toxins out.
Hyaluronic Acid: this natural substance draws in more moisture to your skin, providing a fuller, plumper appearance with fewer visible lines and wrinkles.
Thioctic Acid (Alpha-Lipoic Acid): delivers anti-aging functions by enhancing cellular energy, with anti-inflammatory and antioxidant properties that protect your skin from further damage.
Persea Gratissima (Avocado) Oil: contains very high amounts of essential fatty acids that help boost your skin's repair and rejuvenation functions.
Glycine Soja (Soybean) Oil: a natural anti-inflammatory, this ingredient soothes and calms irritated skin while helping to maintain an ideal level of moisture.
Carnitine: helps to control and regulate sebum production, reducing excess greasiness for more balanced skin.
Retinol: a derivative of vitamin A, this ingredient has powerful anti-aging properties, promoting faster skin regeneration and renewal.
Vitis Vinifera (Grape) Seed Oil: rich in protective antioxidants, this ingredient moisturizes the skin and keeps pores free from bacteria and oily build-up.
Ubiquinone (Coenzyme Q10): a well-known potent antioxidant that also functions as a moisturizing ingredient. It promotes skin firmness by preventing the breakdown of collagen fibers and fortifying connective tissues.
Benefits
Replenishes key nutrients in the skin to enhance overall health and vitality
Regulates oil production and maintains ideal moisture levels so skin remains balanced
Provides potent antioxidants to protect the skin from damaging free radicals and preserve cellular health
Is specifically formulated to work at night, the optimal time for skin repair and renewal
Reduces the appearance of skin discoloration including age spots
Can be used on all skin types including very sensitive
The FDA has not evaluated these statements and this product is not intended to cure or prevent any specific skin condition. Remember to read our labels and ingredient lists carefully and always follow the directions for application. If you have a history of skin allergies, a skin patch test is recommended before use. Avoid ingredients that are known to trigger an allergic reaction and discontinue use immediately should a reaction occur.